New Features
Design Hints

Keep your act together with savvy hints for small space decorating and organizing.
Downloads & Projects

Add a little padding to a hard bench with this simple primitive cushion project you can complete in an hour or so. Use a feed sack for a farmhouse look, or sew on ornate buttons for a fancier feel.
Reader Photo Gallery
Share your own home, and view other readers' photos!
Contests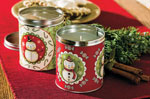 Enter to win a pair of too-cute Christmas candles!

Ten lucky winners will receive a pair of Aunt Sadie's adorable holiday-themed candles with designs by popular folk artist Johanna Parker.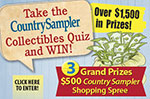 Show off your collectibles knowledge by matching the questions with correct answers.