New Features
Design Hints

Encourage a sense of nostalgia this holiday season with these hints for inviting in antique- and vintage-inspired accessories.
Downloads & Projects

Stitch these simple stockings from muslin and vintage lace in less than an hour.
Reader Photo Gallery
Share your own home, and view other readers' photos!
Contests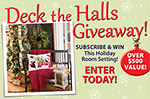 Enter today and you could win an entire HOLIDAY ROOM SETTING!