New Features
Design Hints

Encourage a sense of nostalgia this holiday season with these hints for inviting in antique- and vintage-inspired accessories.
Downloads & Projects

Stitch these simple stockings from muslin and vintage lace in less than an hour.
Reader Photo Gallery
Share your own home, and view other readers' photos!
Contests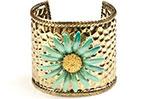 Enter for a chance to win this beautiful hammered oxidized gold cuff with a vintage green enamel flower detail handcrafted by jewelry designer Tricia McMaster of
GreenBijou.com
, as featured in the 2016 issue of
Country Sampler's Prairie Style
.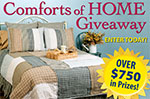 Enter for a chance to win!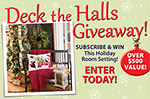 Enter today and you could win an entire HOLIDAY ROOM SETTING!