New Features
Design Hints

Discover hidden tricks and secret tips for giving your home a magical yuletide makeover.
Downloads & Projects

Makeover a tired old accent rug with outdoor fabric in almost no time at all for only $10. To see a video with step-by-step instructions, visit
www.youtube.com/countrysamplermag
Reader Photo Gallery
Share your own home, and view other readers' photos!
Contests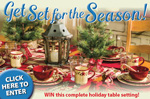 Share your joyful spirit this season with this merry holiday table setting.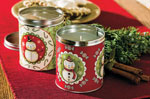 Enter to win a pair of too-cute Christmas candles!

Ten lucky winners will receive a pair of Aunt Sadie's adorable holiday-themed candles with designs by popular folk artist Johanna Parker.