CardMaker - May 2010
Triple-Play Card Set, page 22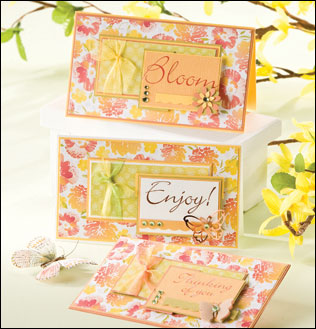 Materials

Card stock: ...
Glitter printed papers ...
Clear vellum ...
White envelopes ...
Mimosa rub-on ...
Green self-adhesive rhinestones ...
Metal butterfly charm
Punches: ...
Decorative-edge scissors
Adhesive foam tape
Paper adhesive
Sources: Card stock from Bazzill Basics Paper Inc.; printed papers and rub-on transfers from SEI; self-adhesive rhinestones from Kaisercraft; metal butterfly charm from Making Memories; organdy ribbon from May Arts; butterfly punch from EK success.
Beautiful Friend Gift Set, page 28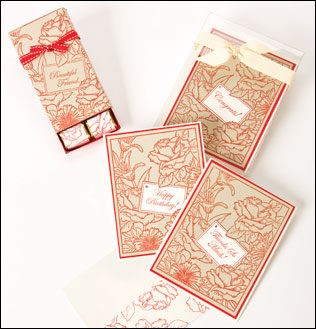 Candy Box, page 29
For box sleeve, stamp floral frame on tan card stock; cut out along border. Score 1/2 inch in on long sides. This will be top of sleeve. Cut a 3 3/4 x 5-inch rectangle from tan card stock for sleeve bottom. Score 1/2 inch in on long sides and fold. Apply double-sided tape to undersides of side flaps of stamped top piece and adhere to folded sides of sleeve bottom.