New Features
Design Hints

Nothing highlights your decor and sets the tone for your spaces like well-chosen lighting. Elaine and Richard Kunicki share a few of the ways they add authenticity to their Billerica, Massachusetts, home with reproduction lighting:
Downloads & Projects

Paperclay is an easy material to work with, and the results are beautiful.
Reader Photo Gallery
Share your own home, and view other readers' photos!
Contests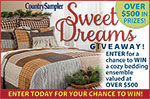 Get set for the season with Country Sampler!