Contests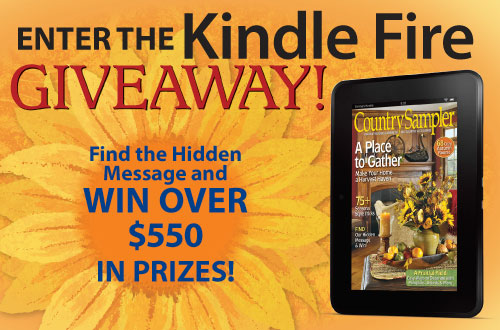 FIND THE HIDDEN MESSAGE AND WIN!
FIND THE HIDDEN MESSAGE AND WIN!
Get cozy this fall with a Kindle and Country Sampler
See below for official rules.
Seek out 24 craftily hidden letters on pages 68-160 in the Craft Fair section of the Country Sampler September 2013 issue. Then enter them in order to decode the secret message. If your answer is correct, you will automatically be entered to win!
GRAND PRIZE:
Kindle Fire HD and one-year digital subscription to Country Sampler! OVER $350 Value.
10 FIRST PRIZE:
Free one-year subscription to the print edition of Country Sampler. A $20 Value
Deadline: All entries must be received by September 28, 2013. Official Rules.
We're sorry, this contest has expired. Please click here to enter our current contests.