Make a Festive Fall Sign
Point the way to autumn by following our instructions to create a deceptively simple decoration for your front door or porch.
Try a signboard instead of a wreath this fall for your front door! Here's an idea from Country Sampler stylist René Haines that you can customize to your own style and preferred colors.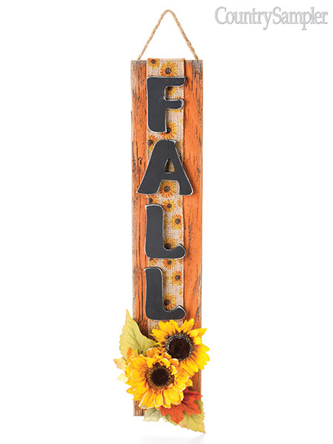 Prepare wood letters and a board. After choosing the length of board and the size of the letters for your project, paint and distress the board and the letters and let dry. René's board measures 27" x 5", and the letters are 4" tall.
Add a wide coordinating ribbon. Stretch the ribbon across the board lengthwise, overlapping by about an inch on both ends. Attach the ribbon to the board with a staple gun, hiding the staples on the back. Check that the ribbon is taut and straight before stapling.
Install a hanger. A short length of jute rope is an easy way to hang the sign. Staple the ends of the rope to the back of the board to make a simple loop for hanging on a hook or magnet on your door.
Adhere the letters and flowers. Lay the letters out on the ribbon until you achieve the proper spacing. Mark each letter's position with a piece of tape before hot gluing them to the board, if you want to be precise about the placement. Hot glue or staple on a few sunflower blooms and fall leaves at the bottom of the sign.
Make it your own! As an alternative, try a sign with your last name or another word with personal meaning.