Big Ideas for Small Spaces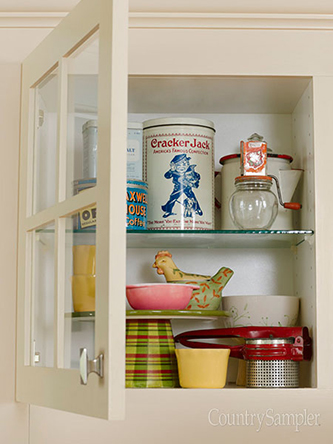 Photographed by Gridley + Graves
Some people find decorating large spaces to be a daunting task, but making the most of small areas in the home also poses its own unique challenges. Here's how you can stretch the most petite spots in your house to fashion personality-plus interiors:
BE PURPOSEFUL WITH DISPLAYS. Make your exhibits work harder by showcasing fetchingly formed collections that brighten your interiors. Think pottery bowls, advertising tins, statuesque cake stands, and metal and glass objects that hold a sheen.
CLEVERLY CONSTRUCT. Include banquettes and window seats that offer below-deck storage for large and/or unsightly necessities that aren't used regularly. Tuck closets or display shelves inside a staircase's base wall. Build-in bookcases and mount shelves to hold pretty and practical objects near where they'll be used most often.
PICK MULTIFUNCTIONAL PIECES. Opt for ottomans, nightstands and coffee tables that supply storage compartments. Bring in benches and footstools that also function as seats.
ENHANCE SPATIAL PERCEPTIONS. Paint walls and ceilings white and choose one type of neutral flooring to make small spaces feel larger. Leave windows undressed whenever possible—your rooms will appear less cluttered and more light will come inside.