Turn a Frame into a Flower Holder
While they're hard to pass up at garage sales and flea markets, old picture frames can gather dust and just take up space if not being used for their original purpose. Try this easy upcycling project to give them new life!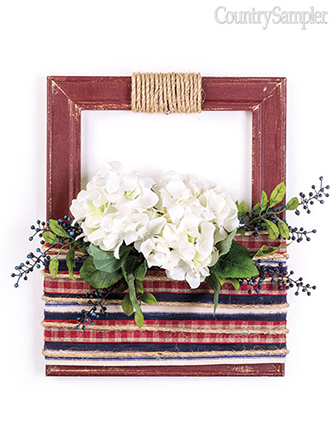 Photographed by Scott Campbell and Styled by René Haines
Think outside the box when it comes to decorating with old picture frames. Country Sampler Stylist René Haines, inspired by a collection of vintage picture frames, offers this inventive alternative to a standard store-bought wreath.
Choose a frame. René suggests using a frame that is roughly the size of a wreath you'd hang on your front door. The frame should be made of wood and should be of thick, sturdy construction. Repaint or distress it to match your house or the season.
Build a basket with ribbon or fabric. With a staple gun, attach a ribbon or fabric strip to the rear edge of the frame. Wind the ribbon completely around the frame until it meets where you started, attaching with another staple on the back and trimming excess ribbon. Keep it taut. The aim is to make a fabric pocket that encompasses the lower half of the frame. A glue gun could be used, but René prefers a staple gun for extra security.
Add texture with thin rope. Wrap rope around the top "handle" of the basket or layer lengths of rope on top of the ribbon for trim. Hot glue works well to adhere rope to the frame.
Fill with faux florals. Tuck stems and sprays of greenery, berries or flowers into the pocket. There is no need to trim the stems or fasten them, as the basket design conceals the long stems as well as holds them snug. Consider hanging the wreath on your door first and then adding flowers to suit.
To watch René demonstrate how to create this project using faux tulips, check out this video.