New Features
Design Hints

From hard-to-find green graniteware to a family heirloom vintage bench with original green paint, it's no coincidence that rooms in Rowann and Hugh Wilkerson's Lilburn, Georgia, home all have at least one or two green accessories. "If an antique is green, it usually comes home with me," Rowann admits. Weaving a verdant pop of a favorite color throughout your interior decor is a personal signature and adds continuity to disparate spaces. Rowann offers the following tips for choosing and working with a signature color.
Downloads & Projects

Make a collection of rustic blooms featuring burlap petals.
Reader Photo Gallery
Share your own home, and view other readers' photos!
Contests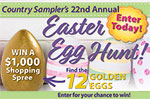 Hunt through the idea-filled pages of Country Sampler's March 2018 Country Marketplace section, find the 12 Golden Eggs and enter for your chance to WIN!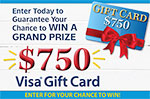 Make your decorating dreams a reality with Country Sampler!