Creating a Patriotic Grouping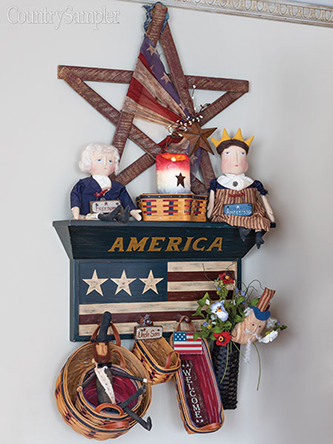 Photographed and Styled by Gridley + Graves
Learn from an interior designer how to style a decorative shelf as a celebration of all things Americana.
Pennsylvania interior decorator/designer Kimberly Smith-Johnson loves Americana. "I decorate for May to September, so I get like five months out of my celebrations," she says. The July 2021 issue of Country Sampler magazine features her home, but she is sharing a few tips now on styling a patriotic grouping so readers may start working on their own designs for the season, just in time for Memorial Day.
1. Start with a foundation item. Kimberly and her husband, Ben, enjoy shopping for decor and found this peg shelf to use as a base. She knew it would be perfect for their living room, which she calls the flag room.
2. Think about the objects you already own. Kimberly sold Longaberger baskets in the past and had some Americana-themed baskets with leather handles in mind to hang on the pegs. She also included a red, white and blue flameless candle she had on hand, nestling it into a star-shaped Longaberger basket.
3. Keep your eye out while shopping. When Kimberly saw the wood star at a shop, she visualized it on top of her shelf—it was a great fit. The long, dark basket on the right peg was also a new purchase for this grouping. She spied the basket, Uncle Sam pick, and other filler foliage at another shop and styled it right there to make her final decision. (The shop owner liked her design so well she arranged other baskets like that in the store—and later reported they were selling very well.)
4. Make the most of personal connections. Happenstance brought Kimberly in contact with a woman who sews Americana dolls, and she knew they would be an adorable addition to this shelf. "Each one that she made is just slightly different and has their own character," she says. "I'm a collector of things like that."
5. Fill in the gaps, and then arrange what you have until you're happy with the result. Kimberly needed to add a few decorative items to her peg-hung baskets to make them look complete. "I like putting the pieces of the puzzle together to get that final result," she says.
To read more of Kimberly's inspiring decorating ideas and get a peek inside her lovely home, see "Parade of Color" in the July 2021 issue.